Google Pay Per Click Marketing Services...
Google Adwords is a brilliant platform for bringing both more enquires into your business and also increasing the traffic to your website and directly increasing your turnover and profits.
With Google Adwords you only pay when the customer clicks on your advert, a typical advert would look like this: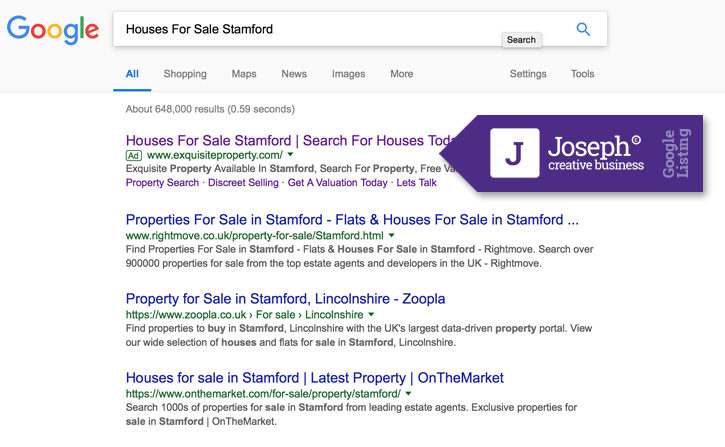 Joseph Creative © will create all of your adverts and we will ensure that you are ranked in the top positions to achieve the maximum results.
We will work with you to deliver the results that are important to you, that could be more enquiries from specific geographical areas where you would like to do more business or actually ensuring your website directly generates more revenue for you in actual sales.
It is vitally important to understand that Google works in an extremely diverse and complex manner to ensure that quality adverts are being delivered against the relevant searches being made and therefore there are a many aspects to ensuring you are highly ranked and obviously your website design and Google ads must work together in a coherent manner and that's what we do here at Joseph Creative ©.
So what do we do?
Create your Google ads campaigns
Generate your ads
Split test your ads
Constantly Monitor the performance of your ads
Control your costs and maximise your results
Generate your keywords
Generate you negative keywords
Results with Joseph Creative ©
Our aim is to give you a Top 3 Position
Increase your quality score with Google
Increase your web site visits
Increases your customer enquiries
Increase your website revenues
Delivered at the best price available
Please contact Joseph Creative © today for your no obligation quote. Telephone: 01733 822 227 or contact us using the form provided.